This 6 x 38-foot stained glass mural contains 28,000 individual pieces of glass and hangs on the north wall in the ISU Alumni Center's west entrance. This piece is the official Art in State Buildings Project selection for the facility.
"The Spirit of Iowa State"
, a 6' x 38' mural commissioned to encourage Iowa State University alumni of many generations and backgrounds to relive their college experience. Artist worked closely with the committee during the design stage to successfully achieve their desired results.
The Art in State Buildings Committee desired a mural that would function as a visual catalyst, encouraging memories and story telling of the rich traditions shared by generations of ISU students, and celebrating all it is to be a Cyclone. Clint had the joy during and after installation of overhearing conversations of just that, observers of the mural partaking in the experience, laughing at memories remembering traditions.
The Alumni Center Mural was created out of approximately 26,000 stained glass mosaic of varying size and color, the pieces averaging approximately 1" square. The glass is of the highest quality available, gathered from fabricators worldwide. These pieces were adhered with a professional polyurethane adhesive to a base of 3/4" plywood and grouted within the artist's studio before being transported to the site. Strips of mosaic approx. 3" wide were fabricated in studio and adhered and grouted over the 9 panel joints on site, created a seamless work of art.
The mural was designed to enhance the space and follows the grid set up within the architectural design. Details such as matching the art's frame to the color and style of the trim work, utilizing strips of patina copper recycled from the Campanile's old roof and a functioning clock within the rendered Campanile in the mural help the piece become much more than decoration. Completed 11/08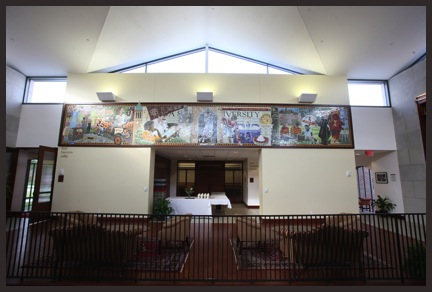 Portion of mural. Images within the design are intended to stir memories, initiate conversations as viewers experience the entrance space of the Alumni Center.

"I can't imagine a more seamless process than working with Clint Hansen on the Iowa State Traditions mural for the ISU Alumni Center. Clint's vision was creative and insightful, yet he never made our committee feel like we were intruding on his creative process when we suggested changes.
The finished product speaks for itself -- I think it's one of the most outstanding works of art on a campus that's nationally known for its public art."
CAROLE GIESEKE, Chief Communications Officer, Mural Commissioning Committee Member, Iowa State University Alumni Association